Major US Air Force/Air National Guard San Juan, PR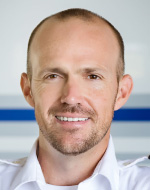 William R. Bohlke is president and chief pilot of Bohlke International Airways (BIA), the sole fixed base operator and air charter fleet on St. Croix in the U.S. Virgin Islands. Recently, Bohlke became the third-generation pilot at the helm of the business. BIA was founded in 1959, is majority family-owned and employs a diverse team of 55 people.
Bohlke is rated to fly the entire BIA charter fleet, which includes a Gulfstream G100, King Air B200, MU-2 Turbo Prop and Cessna Citation jets. He also serves as an aircraft commander in the U.S. Air Force (USAF) for the Puerto Rico Air National Guard. The National Business Aviation Association (NBAA) honored Bohlke as one of the Top 40 Under 40 in 2018, amongst hundreds of international nominees.
Under Bohlke's guidance, BIA has expanded greatly in recent years. In 2015, the company began providing strategic aviation support for AeroMD, the only dedicated medevac aircraft and team in the medically-underserved U.S. Virgin Islands. Bohlke's leadership was imperative during the active 2017 hurricane season in the Caribbean, as he led air-based relief efforts following Hurricanes Irma and Maria.
BIA supports the Hurricane Hunters division of the USAF, which has made St. Croix the hub for Caribbean hurricane tracking. In recent years, the company was granted FAA-certification for its part 145-repair station, Tradewinds Flight Center. This serves as one of the only such maintenance facilities in the region. As of late, BIA became the first Avfuel-branded FBO in the Caribbean.
Bohlke personally volunteers flight time to the Organization of Black Aerospace Professionals (OBAP) Aviation Career Education (ACE) Academy and the Virgin Islands Chapter of the Tuskegee Airmen Youth Aviation Club. BIA partners with several non-profits in the island community including Good Hope Country Day School, St. Croix Animal Welfare Center and St. Croix Foundation for Community Development.
A gifted runner, Bohlke competed at the division one collegiate level when he attended Louisiana State University. There he earned his bachelor's degree in international trade and finance from the E.J. Ourso College of Business Administration. Bohlke remains active in trail running, recently setting the course record in the St. Croix Scenic 50, a fifty-mile race over extreme terrain. He still holds the one-mile run record in the U.S. Virgin Islands with a time of 3 minutes and 47 seconds. Bohlke's personal life revolves around his family, which includes two children, Jack and Isabelle.