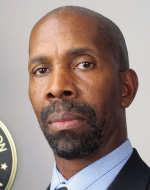 Roger Dunn is an Air Traffic Manager (ATM) with the Federal Administration Agency (FAA) at San Francisco International Airport (SFO) in California. Roger has over thirty years of government service, which he uses to coordinate and administer the air traffic operations at the 7th busiest airport in the U.S., responsible for moving 56 million passengers annually. Before becoming the Air Traffic Manager at SFO ATCT, Roger was an Air Traffic Control Specialist at the FAA Headquarters Office in Washington, D.C. working in the Technical Advisory Group, and the Trajectory Based Operations/NexGen Tools Integration Group. The work of these two closely aligned offices share a focus on developing pathways for incorporating new technologies in support of future air traffic control procedures. These new technologies are designed to facilitate the use of capabilities being built into a newer generation of aircraft, capabilities that will allow more predictable and more efficient flight paths.
Prior to arriving in D.C., Roger spent two years in the FAA Southern Regional Headquarters Office located in Atlanta, GA in the Quality Control Group. As a member of the Quality Control Group, Roger provided support for the New England Region primarily and adjunct support for other facilities throughout the FAA Eastern Region, east of the Tennessee Valley, from Maine to Florida and the Caribbean. The work was focused on ensuring compliance with relevant directives, and facilitating fact-finding inquiries when necessary.
During his career, Roger also served as the ATM at Miami Executive Airport in Florida and St. Thomas Airport in the USVI as well as an Air Traffic Control Specialist at JFK International Airport in NY.
Roger is a multi-engine instrument qualified pilot with more than 950 hours of flying. He spent three years flying cargo and charters for human remains throughout the Caribbean.
He enjoys travel, wine collecting, foreign language, baking, and is an avid bicyclist.