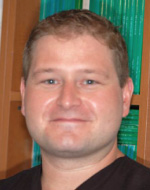 Tim Beltz joined St. Thomas Sleep Center in April, 2007 as one of our Registered Sleep Technologists. Tim is very highly qualified, having met the rigorous requirements necessary to become credentialed by the Board of Registered Polysomnographic Technologists.
Tim is a critical member of the St. Thomas Sleep Center team. He has in-depth knowledge of the center's state-of-the-art polysomnography (sleep monitoring) technology. He is responsible for preparing patients for daytime or nighttime sleep studies by setting up the intricate, pain-free devices that gather data on the patients' physiologic activity while sleeping. Data is gathered on patients' breathing patterns, blood oxygen levels, brain activity, heart activity, eye movement and muscle activity. The data is then "scored" and is used to help the physicians pinpoint the cause of each patient's sleep problems and recommend the best treatment options.
Tim brings a wealth of sleep testing and patient-care experience to the St. Thomas Sleep Center. Prior to relocating to St. Thomas, Tim worked as a Registered Sleep Technologist at SomniTech, Inc., one of the largest providers of diagnostic testing for sleep disorders in the Midwest. Prior to joining SomniTech, Inc., Tim gained broad technical experience while working as a Registered Pharmacy Technologist, and before that, as a Chiropractic Technician. Tim also spent a number of years working in radiology support roles.
In addition to his credentials as a Registered Polysomnographic Technologist and as a Registered Pharmacy Technician, Tim also holds a Bachelor of Science and is certified to administer basic life support during life-threatening emergencies.
Tim's friendly bedside manner, sense of humor and caring approach are characteristics that help our patients quickly relax and become comfortable during daytime and nighttime sleep studies.