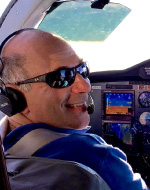 Adam M. Shapiro, M.D., M.A.S. is a licensed pilot and practicing Sleep Medicine Specialist and Otolaryngologist - Head & Neck Surgeon. He is double board certified in both Sleep Medicine and Otolaryngology - Head and Neck Surgery and has sub-specialty experience in Aerospace Medicine. Dr. Shapiro is the president and founder of Aerospace Medical Sleep Consultants, a Miami-based group committed to improving aviation and space safety by reducing errors and accidents due to fatigue and sleep-related issues.
For almost twenty years, Dr. Shapiro has run Virgin Islands Ear, Nose & Throat, the leading otolaryngology practice in the Caribbean with offices on both St. Thomas and St. Croix. Dr. Shapiro is also the Medical Director for the St. Thomas Sleep Center and the Virgin Islands Sleep Center, two facilities both fully accredited by the prestigious American Academy of Sleep Medicine. He maintains strong academic ties to teaching -- retaining a clinical faculty position at The George Washington University School of Medicine and instructing medical students in Tropical Otolaryngology.
Dr. Shapiro graduated from Cornell University, College of Arts and Sciences with a degree in Biochemistry. He completed his medical training at The George Washington University School of Medicine and his surgical and otolaryngology residency at Albany Medical Center. He was a fellow at Shadyside Hospital, now part of the University of Pittsburgh Medical Center, in Facial Plastic & Reconstructive Surgery as well as endoscopic sinus surgery. Dr. Shapiro received a post-graduate Masters in Aeronautical Sciences, with honors, from Embry-Riddle Aeronautical University, specializing in human factors and space studies.
He has been a pilot for over 30 years, currently holding Airline Transport Pilot and Citation Jet type ratings. For more than 25 years, Dr. Shapiro has also been an FAA designated Senior Aviation Medical Examiner. He is an Aircraft Commander in the United States Coast Guard Auxiliary Aviation Division and the former Assistant District Flight Safety Officer for Air Station Borinquen. He is also a scuba diver certified in hyperbaric medicine and is a Diver's Alert Network referral physician.
Experience
President
Aerospace Medical Sleep Consultants, LLC
June 2015 – present. Miami, Florida and St. Thomas U.S. Virgin Islands
Aerospace Medical Sleep Consultants, LLC (AMSC) is dedicated to improving the safety and productivity of the aviation and space industries. Specializing in strategic planning and logistical support for both large and small corporations, AMSC develops fatigue reduction programs, identifies and treats employees with sleep disorders and improves the cognitive workforce health and productivity. AMSC also provides technical support and expertise to the growing commercial space flight industry. Our clients include governmental, military and domestic and international commercial entities.

Clinical Assistant Professor of Surgery
The George Washington University School of Medicine
1996 to present, Washington, D.C.
Assistant District Flight Safety Officer
United States Coast Guard Auxiliary
2015 - 2017, District 7, Airstation Borinquen

Aircraft Commander
United States Coast Guard Auxiliary
March 2014 – Present
Aircraft Commander, District 7 USCGAUX

Otolaryngologist, Head and Neck Surgeon, Sleep Medicine Specialist
Virgin Islands Ear, Nose & Throat
March 2002 – Present
St. Thomas & St. Croix, U.S. Virgin Islands
President and founding member of Virgin Islands Ear, Nose & Throat, Virgin Islands Facial Plastic Surgery, Virgin Islands Allergy Center, Virgin Islands Hearing and Balance Center and the St. Thomas Sleep Center
FAA Designated Senior Aviation Medical Examiner
FAA
January 1995 – Present

Otolaryngologist - Head & Neck and Facial Plastic Surgeon
Associates in Otolaryngology of Northern Virginia
September 1993 – February 2002. Reston and Alexandria, Virginia

Otolaryngologist - Head & Neck and Facial Plastic Surgeon
South Florida Facial Plastic Surgery Associates
September 1992 – August 1993. Hollywood, Florida