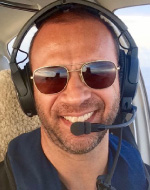 Dr. Gassen is a board-certified Otolaryngologist/Head and Neck Surgeon. He completed his residency in Otolaryngology/Head and Neck Surgery at the University of Maryland School of Medicine with previous surgery training at Tulane University School of Medicine, Louisiana State University School of Medicine, and Memorial Sloan Kettering Cancer Center. Dr. Gassen served multiple tours as a Senior Flight Surgeon with the US Navy Medical Corps, assigned to Carrier Air Wing FIVE at Naval Air Facility Atsugi, Japan and USS Kitty Hawk CV-63 as well as Marine Air Group 39 and Marine Air Group 46 at Camp Pendleton, CA.
He is currently Assistant Professor of Otolaryngology at Tulane University Medical School in New Orleans, LA where he practices general otolaryngology and instructs residents and medical students in rhinology/sinus surgery, endocrine surgery, laryngology, and sleep surgery.
Dr. Gassen is a Private Pilot, SEL, currently working towards his instrument and commercial ratings.